Quali capi avere assolutamente in valigia in estate (ma anche nell'armadio) per essere glam in ogni dove e indossarli con stile anche l'anno successivo? Ecco i colori e gli stili che non passeranno mai di moda!
Ruffle pullover stripe / Drop earrings / Semi circle beaded clutch
Versatile poncho / Playa macramè clutch
::This post contains affiliate links and I will be compensated if you make a purchase after clicking on my links::
P

er affrontare il gran caldo estivo senza perdere lo stile puntare su colori e stili evergreen è sempre un'ottima idea! I colori chiari sono senza dubbio quelli che ci regalano maggiore freschezza nelle giornate afose
sia in città che in vacanza
, inoltre sono facilmente adattabili oltre ad essere un'ottima soluzione soprattutto per quanto riguarda l'abbinamento degli accessori. Vale sempre poi la regola che è meglio togliere che aggiungere soprattutto per quanto riguarda un look a maggior ragione se è estivo, soprattutto quando le temperature sfiorano di gran lunga i trenta gradi. Un classico che ben si accosta a tutte le gradazioni di blu è il bianco, un'unione di colori che dà un tocco di buon gusto anche ai look più semplici.
Le proposte di Stella & Dot che ho selezionato nelle foto, sono sempre da cogliere al volo. Sono infatti attuali, eleganti ed al passo con i tempi: un poncho blu versatile che si presta a diventare un cardigan, incantevoli orecchini e preziosi nel loro design, clutch che diventano ancora più pratiche con la tracolla, l'intramontabile maglia a righe. Stili da copiare e da riporre in valigia per il prossimo viaggio, da amare senza troppo arricchirli.
Se abitate Oltreoceano davvero imperdibile è la proposta di Stella & Dot, ovvero far parte del loro team ed aderire all'Independent Stylist program: riceverete un kit con i prodotti più venduti tra cui gioielli, borse e vestiti per un valore di 1,000 dollari pagandolo solo 199 dollari. Una proposta molto interessante per organizzare un party a tutto stile con le amiche e mostrare loro le ultime novità di Stella & Dot!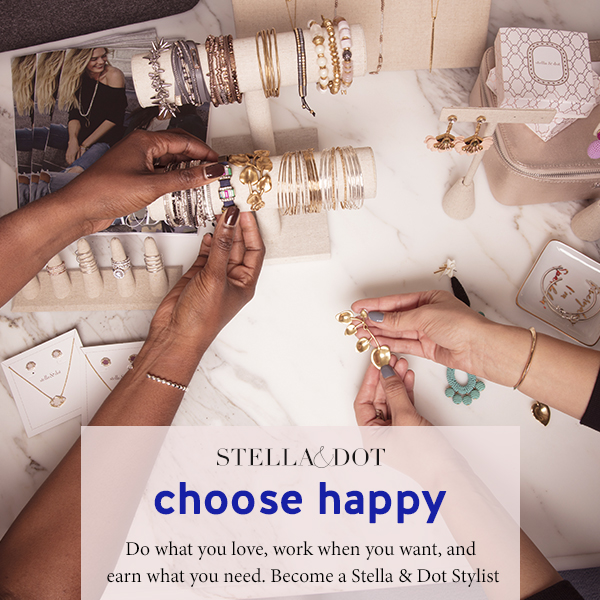 ________________
Testo: B.Bovio @iblocnotes
Foto: Stella & Dot